Baton Rouge is the Louisiana state capitol. Its capitol building has the distinction of being the tallest of any state. And they let you visit the observation deck before 9h on a Saturday. Awesome!
The WWII destroyer U.S.S. Kidd is a floating museum on the Mississippi. I have to admit that I felt almost guilty having driven my Japanese Domestic Market car with fake Japanese license plate to visit a boat that had seen heavy fighting in the Pacific theatre against you-know-who. Weird thought.

Baton Rouge city streets
River Road
The River Road generally follows the Mississippi river all the way down to New Orleans. It changes highway numbers quite often, but you can be pretty sure you're on it if there's a giant grassy levy on your right. In fact, you really don't see anything at all of the river on the River Road since there's a giant wall making sure that the river doesn't flood the ground you're on. If you really followed the course of the river all the way to New Orleans, it would take a really, really long time because the river constantly snakes around in great bends. I cut out the bends whenever a road permitted this.
While the view to the right is always a big grassy mound, to the left you see one giant industrial plant after another. It seems like every multinational petroleum or chemical company is represented. The other curious thing is that most of the railway locomotives are CN (Canadian National). But since CN controls the Illinois Central Railroad, this does make sense.
I don't think it's possible to follow the river all the way to New Orleans. At one point the River Road did not cross a flood canal and instead gave out onto US 61. But eventually it was possible to make it back to the river. One interesting thing that you notice when your GPS gives you elevation is the following. I saw as low as -4m, but couldn't stop to take a picture: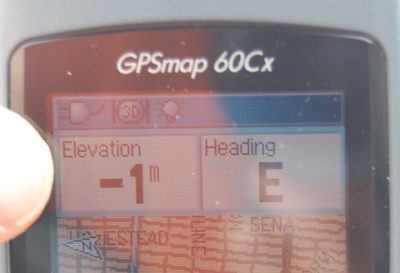 River Road
New Orleans city streets