Photo of the Moment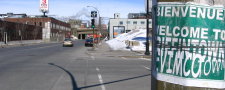 Residents are so excited about redevelopment, they've unofficially renamed Griffintown to Devimcotown
Opinion
Your thoughts on the lifestyle centre?
The shopping experience will be great. I'm sure it won't be long before we're talking about how awkward it was shopping on Ste-Catherine Street...
more
- More opinions -
Contest
If a statue honouring the promoters of Project Griffintown were to be erected in St-Ann's Park, what should it look like?
Send your sketches to:
griffintalk@dungen.ca
---
Projet Faubourg des Récollets
---
MONTREAL - A Devimco spokesperson announced that the Projet Griffintown, a mega-development being bulldozed into reality by the developer, would be renamed Projet Faubourg-des-Récollets. The name change is a result of findings that Montréal residents overwhelmingly are not aware of where Griffintown is located. In 1990, the City of Montréal renamed the neighbourhood at the mouth of the Lachine Canal to Faubourg-des-Récollets. "I can't remember what I did last week, how should I know what some obscure neighbourhood was called 18 years ago" exclaimed St-Henri resident Seamus O'Connell. He then added "only now do I know that this development will be next door to me. Is this where the casino is being relocated?".
Serge Goulet, president of Devimco later explained that Griffintown projected a poor image for his revolutionary new development. "Griffintown represents the birthplace of the industrial revolution in Canada. We don't want prospective clients and residents to equate our shopping mall with sooty smokestacks and shantytowns. That's an unfortunate image of Montréal's history which must be erased." Asked why the proposal was not initially named Projet Faubourg-des-Récollets, he replied "the [www.projetfaubourgdesrecollets.com] domain name was already taken, and we only now managed to expropriate the owner." He then added "it's much easier to buy off the City of Montréal than the Internet Corporation for Assigned Names and Numbers."
The change underlines Devimco's commitment to consideration of public opinion. After many complaints such as that by Mr. O'Connell, the developer took definitive action. And now, residents of the greater Montréal area can correctly associate the project with the decimated neigbourhood they have to pass through on their way to the South Shore via the Victoria Bridge. In just a few short years, it will be more readily identifiable by prominent 60m towers and evening rush hour gridlock.